There was a consistent theme I was noticing as I coached career women and women leaders around their confidence, leadership, and career advancement which was how focused many of us are on external validation. Of course, we are conditioned this way from early childhood, all through school, then with society, and to even greater depths with cultural expectations, and it is 'one' feedback loop we need to reflect upon, but it is not the 'only' source we should rely on. So, as I was asked to speak at Women's Summit, I knew exactly what I was going to talk about and it had to do with the one powerful shift women in business and leadership can make to set themselves free, own their worth, and have greater confidence. It boils down to one word and that word is 'Arrive'.
If we are always waiting on approval, seeking validation, looking for feedback or recognition, or needing an external source to gain our worth or identity from, we are not: claiming who we are, the value we have to offer right now in this moment or owning our power through the worth we already have. To arrive means we do not seek nor need external validation to approve or tell us what our worth and value is as we know it for ourselves. In essence, we are taking our power back and we are stating who we are and what our value is independent of any external source. You can listen to and watch the video of my interview on the "Own it!" summit below where I explain more about what it means for women to 'Arrive' and how this powerful shift will transform your confidence, leadership, and communication. Those are the three pillars of Women's Leadership I coach and facilitate workshops around.
Free Download for Women to Arrive, Be Confident, and Communicate with Confidence
Here is a free PDF on how to Arrive, Be Confident, and Communicate with Confidence.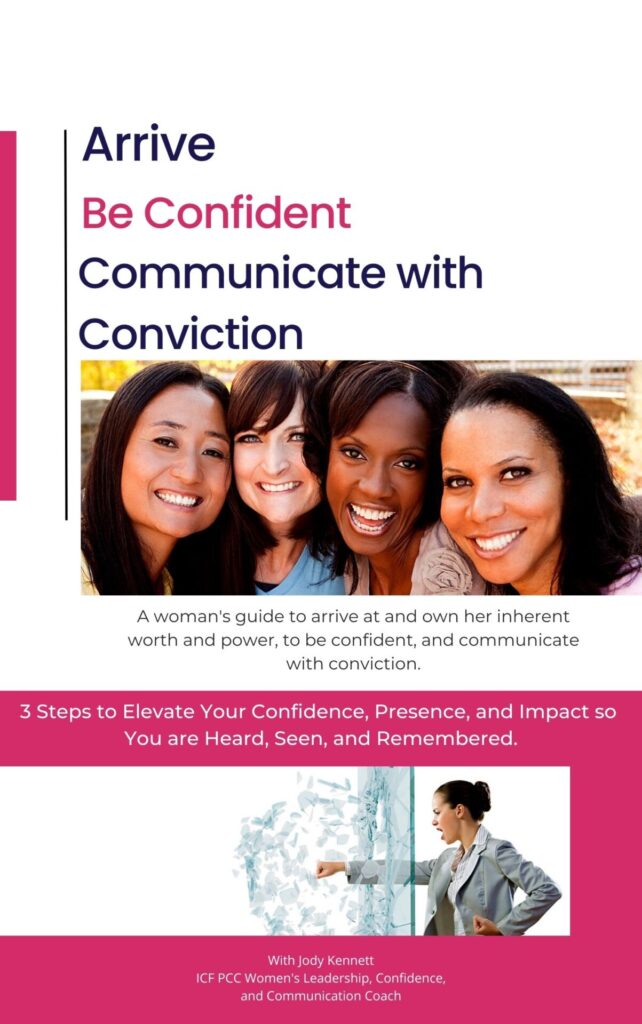 Owning Your Power and Worth as a Career Women Leader
It can be challenging as a career women or leader to own our power depending on the industry, company or leadership culture we are working in everyday. There are people, politics, and circumstances that can make it difficult to stand in conviction with our worth, but we absolutely can if we learn to navigate these situations and are steadfast to owning our worth with rock solid internal validation.
Yet, it is not enough to know it yourself, we need to be able to communicate, present, and be what we know we can be and are as a professional, leader, and expert. This is where we can stumble because women are taught to be humble, they are taught to take community credit, and many of us are not comfortable advocating for ourselves.
Communicating Your Value and Worth with Visibility and Voice
Learning how to communicate your value and worth is an essential part of your career growth and advancement plan. Getting comfortable with how to present yourself owning your skill, knowledge, value, and talents, is a practice; there is no other way around it. If you want to develop and grow, whether it be for business, career or leadership, you will need to have a path and plan to be more visible and to have a voice. For some of us, it will be the greatest challenge of your career especially if you are an introvert or find presenting challenging; for others, it will be a concerted effort where you need a plan and a consistent practice. This is all a part of elevating women leaders and advancing more women into leadership.
Are You a Women Leader Building Your Career or Business Who Wants to Arrive in Confidence and Owning Your Power and Worth?
If lack of confidence or not knowing how to present or communicate confidently is challenging your career or business growth, there is a lot you can do to overcome these challenges. Do you find yourself focused on external validation, comparison, and or a fear of being seen or heard? As a women's leadership, confidence, and communication coach I elevate women to step into their power, owning their worth, advancing their career and leadership, and arriving at their value from an internal locus of control. You can take charge of this and lead yourself to a place of confidence, comfort, and powerful presence. Lead it forward with a complimentary consult or email Jody at jody@jodykennett.ca for the next steps.
Would you like to know where you are at on the 9 categories of Women's Leadership? Take our Free Women's Leadership Assessment Here.
Connect with me on Social